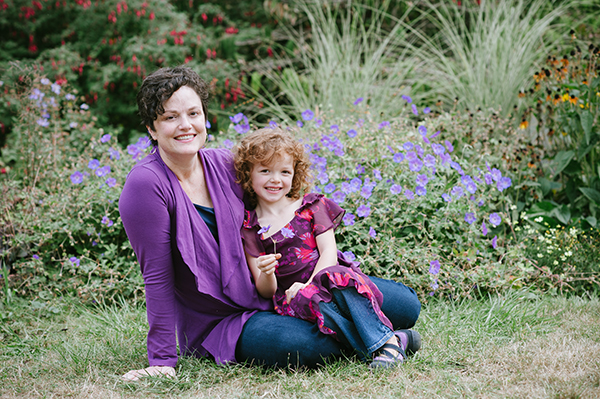 My wife Chelsea Harper was diagnosed with Stage IV (metastatic) breast cancer in 2010. She was just 35 years old. Her diagnosis was a heavy and unexpected blow for our family. And for Chelsea, a young woman in the prime of health, with a daughter just about to turn three, in the midst of building her career as a professional counselor.
Chelsea was a healer and a do-er with training in dance movement therapy, child development, acupressure and yoga. She embraced her cancer treatment and her well being. She was active in the "Young Survivors" of breast cancer community. Chelsea had worked with parents and families, making stories for young children to explain new information to them. She wanted to do her best to support our daughter Eva. So, to explain her medical procedures, Chelsea collaborated with her cousin, visual artist Penny Hood, to create a personalized children's book for Eva, "Go Away Lump!"
Chelsea soon met educator Brook Irwin, a fellow 35-year-old breast cancer survivor. Brook had created a similar book for her young son. Brook and Chelsea resolved to co-author a child-friendly book to "help mammas talk to their kiddos about breast cancer." In 2013, they mounted a successful Kickstarter crowdfunding campaign, "The Story Book Project," to print a limited run of a personalized, fill in the blank book. "I Love You Forever and Always" explained breast cancer treatment and potential side effects with simple words and colorful drawings. Kids could write in their family names and their feelings. There were chapters on topics such as "Life Before Cancer," "Diagnosis / Telling," "Chemotherapy," and "Life with Cancer" — with optional sections on cancer recurrence "Cancer Comes Back" and death "Goodbye Mommy." Penny again contributed her pleasing illustrations, reminiscent of Eric Carle. More than 800 books were assembled by hand and distributed to moms around the US and abroad with breast cancer.
"I Love You Forever and Always" received much positive feedback. Unfortunately, Brook died shortly before the book's publication. We lost Chelsea in 2017. Since then, we have heard from many people wondering how to obtain a copy of the book. So, a small team of us, Chelsea and Brook's family and friends, explored ways to recreate the Story Book Project and make it accessible to others.
We now have a new version of the book available, using print-on-demand technology, that can be found at online book sellers. If you or someone you know is a mom with young children dealing with breast cancer, or you are looking back over a cancer experience, I encourage you to check out "I Love You Forever and Always," The Storybook Project Book.
As I have said before, "The Story Book Project book helped our family to cope with Chelsea's breast cancer diagnosis, with several years of treatment and living with cancer, and ultimately with her death. It gave us all (adults and children) a way to talk about cancer together. And it was a way for Chelsea to share her love as a mother. It is so important to get this resource into the hands of other parents and children coping with breast cancer."
The book helps moms deliver this important message: "I love you forever and always and no matter what happens you will be alright."
Thanks and take care,
— Thomas Doherty, Psy.D.