On Wednesday, November 19, 2014, I recorded a short video on "Psychology and Nature" with psychology professor Tatiana Snyder and videographer Michael Annus of Portland Community College (PCC).
Tatiana has collaborated with Michael to create a series of videos for students about psychologists who do interesting kinds of work, including sports psychology and neuropsychology.
Tatiana was originally interested in my ecopsychology work. As we developed the project, it seemed useful for introductory psychology students to get a big picture view of different approaches to linking psychology and nature—"psychology" as in the study of mind, emotions, behavior and identity, and "nature" as in natural world, places, other species, environmental issues, sustainability, and diverse experiences and beliefs about all of the above.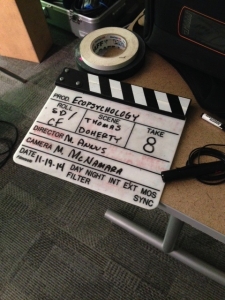 The video approached questions like:
"Why are some people more concerned about the natural environment than others?"

"Does a simulated view of nature had the same restorative benefits as a real view?" 

"Do natural disasters like storms and droughts affect mental health and well-being?
A demo recording of the script is below.  I hope the video comes out well!
I'll make sure to post a link when it's available.
Happy Thanksgiving,
Thomas

"Psychology and Nature" Video TRANSCRIPT
[fusion_builder_container hundred_percent="yes" overflow="visible"][fusion_builder_row][fusion_builder_column type="1_1″ background_position="left top" background_color="" border_size="" border_color="" border_style="solid" spacing="yes" background_image="" background_repeat="no-repeat" padding="" margin_top="0px" margin_bottom="0px" class="" id="" animation_type="" animation_speed="0.3″ animation_direction="left" hide_on_mobile="no" center_content="no" min_height="none"]
[/fusion_builder_column][/fusion_builder_row][/fusion_builder_container]